It's almost here! The new season is just weeks away. With the impending rule changes for 2020, strategies for Event Registration were incredibly interesting to watch. Some teams attempted to compete early and maintain a 6-week schedule, others split their schedule early and late, and others are planning to compete exclusively late to have maximum iteration time. What goes into your event selection can be nuanced and complicated, depending on your goals.
However, if you're on a true #Mentorbuilt team, you know the most important part to consider when choosing an event. That's right. We're talking food.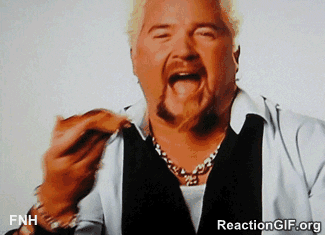 The food accommodations on an event trip can make or break an event, and the potential impact on team morale cannot be understated. A quality dinner each night will provide the nutrition needed to carry your alliance through the finals. And don't forget the energy you'll need to lug all those trophies and blue banners home at the end of the event.
We decided to survey our staff, which encompasses contributors from coast to coast, to find their favorite events in regards to food accommodations locally! We event went so far as to link our favorite restaurants in these cities!
Here's the Official Mentorbuilt Top 10 Events, Ranked by FOOD!
10) Sacramento Regional - Sacramento, CA

Coming in at Number 10, Sacramento has some fantastic food locally. Just a few miles down the road is Sonoma, CA. Sonoma is renowned for their fantastic local foods. If you're looking for some authentic local cuisine, we can't recommend this restaurant enough.
NUMBER 10
9) FIT Austin Event - Austin, TX
If you know Barbecue, you know Texas. If you know REALLY know BBQ, you know Austin. It's just a city where you can't go wrong in for food - and you'll always be able to find some good music to match. Our local experts say this spot has the best of both worlds.
8) PNW District Clackamas Academy Event - Oregon City, OR

The Clackamas Academy event might take the #1 spot in a Coolest name list, but this PNW district slides in at number 8 on our list. Oregon City, Oregon is just a few exits south of the incredibly underrated city of Portland, Oregon. Organic food fans rejoice, this might be your promised land! If you managed to land a spot here, check out this restaurant just outside Portland for a nice quick bite before your Scouting meeting!
NUMBER 8
7) San Diego Regional - San Diego, CA

Burritos, baby! If you know what a Cali Burrito is, you know. San Diego comes in at 7 on our list with a plethora of authentic Mexican food all across the city. After dinner, our crew recommends some nice dessert here!
NUMBER 7
6) St. Louis Regional - St. Louis, MO
If you attended a CMP in St. Louis, I hope you experienced the joy of Pappy's Ribs. Need I say more? If you miss it as much as we do, you can order Pappy's sauce online at their website, here:
https://www.pappyssmokehouse.com/shop-1
5) Bayou Regional - Louisiana
One might think that if you're in NOLA, you have to find the best Jambalaya in town. Now, we won't say that's a bad idea, but why not have Jambalaya for dinner, and the WORLD FAMOUS Cheesecake from this restaurant for dessert? It's a no-brainer.
4) Greater Boston District Event - Boston, MA
If you've ever been to Boston, you've probably heard from a local that you "gahda tri Mike's Pastries". We're not here to tell you that Mike's is not the best bakery in Boston. Well, because it probably is. However, there is another bakery a few T stops away from Mike's in the Prudential Center. Check it out!
3) New York City Regional - New York, NY
New York City has, by some accounts, some of the best restaurants in the Country. High class, 5-star restaurants are as easy to find as a Dunkin Donuts in Rhode Island is. Restaurants like these are probably outside most teams' budgets though. And just like New York's favorite football teams, our favorite restaurant is actually in New Jersey...
2) Midwest Regional - Chicago, IL
Deep Dish Pizza sucks.
Eat here instead. You'll thank us later.
1) Los Angeles Regional - Los Angeles, CA
The coveted first spot in our lineup goes to yet another California city, the third on our list. I'm sure this isn't Breaking News to anyone in our community, but #WestCoastBestCoast. We're going to close out our list with a restaurant found in Beverly Hills, CA, just a little out of the way from downtown LA. This spot was founded in 1978, and is now one of the most popular, well-known spots in the entire food industry.
NUMBER 1
Thanks for reading! Be sure to follow Mentorbuilt for more Top 10 lists, just like this one!